Custom Police Department Lapel Pins
Posted by Signature Pins | August 27, 2013 at 3:34pm | Topic: Custom Lapel Pins
Local police departments have special units created to help within your community. You can help bring awareness to that unit with a special memento like a custom lapel pin. Officers can proudly wear their pin or embroidered patch after training for this unit. This allows them to demonstrate pride in the type of work that they do.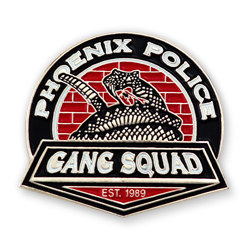 Custom lapel pins and embroidered patches are the types of items that police officers of all departments enjoy and appreciate. They like to wear their awards because they know the type of sacrifice that was made to earn them. At special ceremonies and banquets, these items can be handed out to officers as a way of thanking them for a job well done.

Lapel pins can be soft enamel, cloisonné, offset printed or die struck in your choice of size, shape, and colors. Patches and pins can complement one another. We offer a variety of backing styles for our customers to choose from. Some police officers prefer iron on patches and others like Velcro because they can be taken off one article of clothing and placed on another with ease.

Don't forget to order custom lapel pins and patches for your police department today. We can help you come up with a design that meets your needs and exceeds your expectations. Visit http://www.signaturepins.com to request a free price quote and digital file containing the custom artwork that we created for you.

Fill out the FREE QUOTE form on our website or email your ideas to info@signaturepins.com. You can also call 1-800-480-6822 toll-free. Take advantage of our free artwork and design services. We're here to provide you with quality custom lapel pins in your choice of soft enamel, cloisonné, offset printed or die struck.