Make a Difference Day Custom Lapel Pins
Posted by Signature Pins | October 25, 2013 at 1:03pm | Topic: Custom Lapel Pins
The fourth Saturday of October is Make a Difference Day. It's a nationally recognized day where people come together and help neighbors and their community with improvements to the neighboring and surrounding areas. Volunteers help make this date successful each year. Don't they deserve recognition for the knowledge, skills, and commitment they bring with them?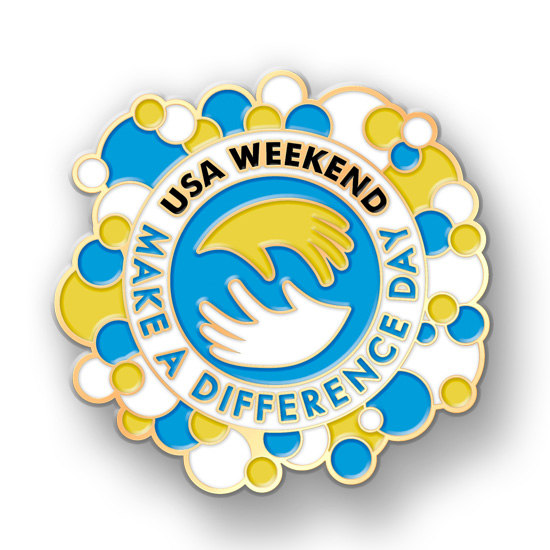 If you're looking to make a difference in the lives of the individuals, couples, and families that participate in your Make a Difference Day event, why not do so with a unique and memorable gift of a custom lapel pin? Few items make the type of impression that pins do. The reason for that is simple. Pins can be worn daily and be used to educate and excite other members of the community thinking about volunteering.
Custom lapel pins reflect your organization's values and mission. They can be made to reflect these ideas. Our team of designers can help you select the size, shape, style, and colors of pins that best meet your needs. In fact, you can even take a look at our online gallery for inspiration. You'll find some of our best designs there.
We offer soft enamel, cloisonne, offset printed, and die struck pins for you to choose from. You can elevate the attractive appearance of your pins by including add-ons like glitter, simulated gemstones, cut outs or even silkscreens. We offer these options and more. Speak to a representative about your ideas and we'll make sure to send you a digital proof of the pin design we came up with for you.
Create custom lapel pins and make a difference today. We create custom lapel pins based on your needs and preferences. Visit http://www.signaturepins.com to request a no obligation, free price quote. We'll send it and a digital file containing the custom artwork that we created for you.
Email your ideas, questions, and concerns to info@signaturepins.com. You can also call 1-800-480-6822 toll-free. We offer free artwork and design services as well as free shipping to your US address. Let us show you what makes us one of the best lapel pin companies around. Our knowledge, expertise, and creativity are apparent in every lapel pin design that we create.