Baseball Trading Pins
Jewelry Quality. Class & Style.
Baseball Trading Pins
Custom Trading Pins is one of our specialties. With pin trading increasing in popularity, catering to sports teams is something we are accustomed to and take great pride in.
High Quality Custom Trading Pins
At Signature Pins we strive to make the process of ordering custom made baseball and softball trading pins as easy as we possibly can for you, our customers.
The process starts when you contact one of our trading pin designers via phone or email for a free quote. We will work with your team every step of the way to insure that you get a high quality trading pin that is sure to be a big hit with players and fans. We can even recommend the right types of add-ons (Spinners, Sliders, and Blinkers) to increase your pins tradability.
What's Included with My Trading Pin Order?
Colors: Up to 7 colors at no additional charge!
Design: We design your trading pin absolutely free!
Setup & Mold: No setup fee or mold charges!
Production Time: Your pins are manufactured in 10-12 days for standard pins!
Note: Due to the high volume of trading pins ordered during the months of June and July, some orders may experience increased delivery times. Please consult with your sales representative to determine our current delivery schedule.
above and beyond other trading pins
Trading Pin Options
Danglers
A trading pin dangler is a movable part and requires a second mold and design. Typically the dangler is attached via a "ring" but they can also be attached to small jewelry chain. The dangler option is often used to designate tournament details, like the year of the tournament, a baseball, a glove, a softball, the state, and more. Most commonly danglers are used to designate the year of the tournament series.
Spinners
A spinner is a small second pin joined on to the first which twists and turns. Spinners can come in any shape you can imagine, but the spinner style is important to your overall design and can come in the shape of bats, baseballs, softballs etc. They add extreme value, trading power and dimension to your team's trading pins. Highly sought after at tournaments, the spinner option is an easy way to make your pin more tradeable.
Blinkers
No pins trade easier than those with a blinker. Blinkers add a high-tech "bling" to your Custom Trading Pins. Highly sought-after this battery powered colored lighting mechanism blinks when turned on. This option is sure to bring your custom trading pin to life like no other option we offer. Blinkers work great for eyes, and really stand out at night.
Glitter
Glitter is an inexpensive way to make a sought after, highly visible and expensive looking team trading pin. Glitter is added to the enamel colors of your trading pin design. The glitter colors we use are very popular and the sparkle can really bring your design to life.
Bobbles
Bobbles are a second movable trading pin piece which is attached with a strong spring to the main pin. They "bobble" when the pin is moved creating an eye catching effect. This option is best for older kids as the spring can be a little more fragile than other attachments like blinkers or sliders.
Sliders
Sliders are very cool and easy to trade. A second, smaller pin is attached into a channel (the "slot") on the main pin and slides up and down or side to side. Sliders are eye appealing and give a sense of action to the trading pins. Common sliders include; players running a baseline, swinging bats and moving baseballs or softballs.
FAST, EASY ORDERING, OUTSTANDING QUALITY AND SUPERIOR CUSTOMER SERVICE
Custom Lapel Pin Pricing
*Free single-sided mold with every key chain order
* Antique process adds $0.10 per keychain
We offer a variety of different optional attachments
Lapel Pin Attachment Options
Butterfly Clutch
Included with Order
Deluxe Clutch
$0.30/ea
Key Ring
$0.75/ea

Cufflink
$1.00/ea
Jewelry Clutch
$0.40/ea
Safety Pin
$0.25/ea
Magnetic Back
$0.75/ea (2 Pieces)
Military Clutch
Included with Order
Bar Magnet
Bar magnets: $1.25 each or $1.50 each for 2" lapel pins
INCREASE THE MEMORABILITY OF YOUR PROJECT
Presentation Options
FAST, EASY ORDERING, OUTSTANDING QUALITY AND SUPERIOR CUSTOMER SERVICE
Metal Plating Options
High Polished Copper
High Polished Bronze
Antique Silver
High Polished Silver

Black Nickel
Antique Copper
Antique Gold
Black Metal

High Polished Gold
Antique Bronze
INCREASE THE MEMORABILITY OF YOUR PROJECT
Artwork Requirements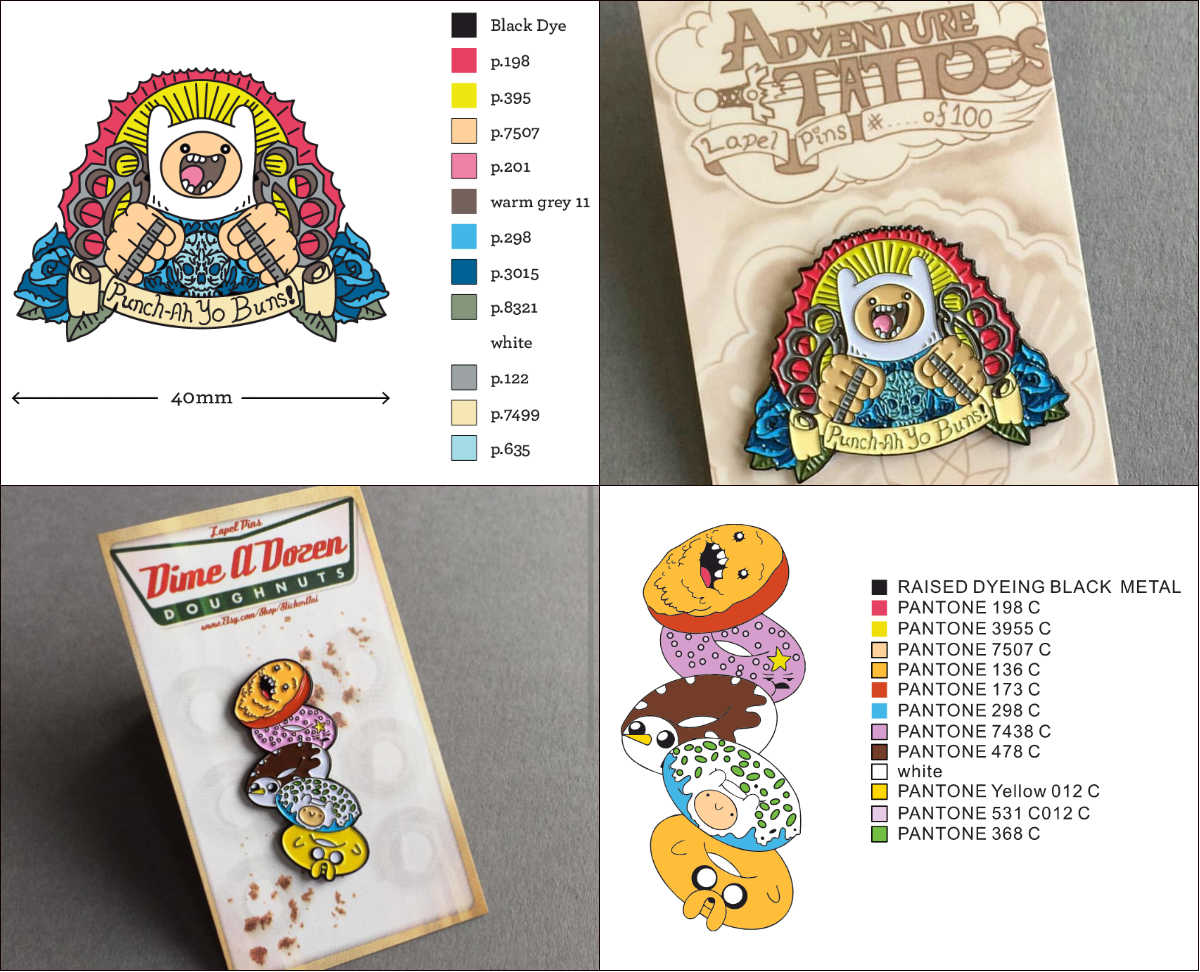 Signature Pins staffs a full graphic art department To best prepare the artwork for your Lapel Pin designs.
Please keep in mind that when submitting an estimate, a design is not required. If you do not have a design available, our art team can create a digital rendering based solely on the ideas you submit with your request for an estimate.
Dependable Service with Consistent Quality
Hundreds of Clients have Experienced Our Exceptional Service