Offset Printed Pins
Jewelry Quality. Class & Style.
Offset Printed Pins
Do you need a lapel pin with a great amount of detail or wide range of colors? Offset printed lapel pins give you maximum flexibility without altering or distorting your design.
Offset Printed Lapel Pins: When Quality Matters
They are the perfect option for artwork that incorporates gradients, drop shadows or other subtle color changes. What's more, you get unlimited choices of fonts and other design elements since these lapel pins are created from a digital file or photo negative.
Offset printed lapel pins offer incredible results. For an exact replica of your logo or photograph, there is no better style of pin for you to choose from. Instead of compromising the appearance of your logo or image, why not consider creating offset printed lapel pins instead? Not only will they provide you with value, they also help you accomplish whatever it is you achieve to do. From milestone events like birthdays and anniversaries to corporate functions, we can help you create a lapel pin that is picture perfect.
What are the Advantages of Printed Lapel Pins?
Printed lapel pins offer an exact replication of your design.
Custom shapes are created to accommodate practically any pin style.
They have a medium to high perceived value.
To protect the pin from scratches, a protective epoxy dome is added at no additional charge.
Created from your 300 dpi artwork or your photo negative.
The smooth finish with polished edge gives a sleek, modern appearance.
Offset printed lapel pins are individually poly bagged.
FAST, EASY ORDERING, OUTSTANDING QUALITY AND SUPERIOR CUSTOMER SERVICE
Custom Lapel Pin Pricing
*Free single-sided mold with every key chain order
* Antique process adds $0.10 per keychain
We offer a variety of different optional attachments
Lapel Pin Attachment Options
Butterfly Clutch
Included with Order
Deluxe Clutch
$0.30/ea
Key Ring
$0.75/ea

Cufflink
$1.00/ea
Jewelry Clutch
$0.40/ea
Safety Pin
$0.25/ea
Magnetic Back
$0.75/ea (2 Pieces)
Military Clutch
Included with Order
Bar Magnet
Bar magnets: $1.25 each or $1.50 each for 2" lapel pins
INCREASE THE MEMORABILITY OF YOUR PROJECT
Presentation Options
FAST, EASY ORDERING, OUTSTANDING QUALITY AND SUPERIOR CUSTOMER SERVICE
Metal Plating Options
High Polished Copper
High Polished Bronze
Antique Silver
High Polished Silver

Black Nickel
Antique Copper
Antique Gold
Black Metal

High Polished Gold
Antique Bronze
INCREASE THE MEMORABILITY OF YOUR PROJECT
Artwork Requirements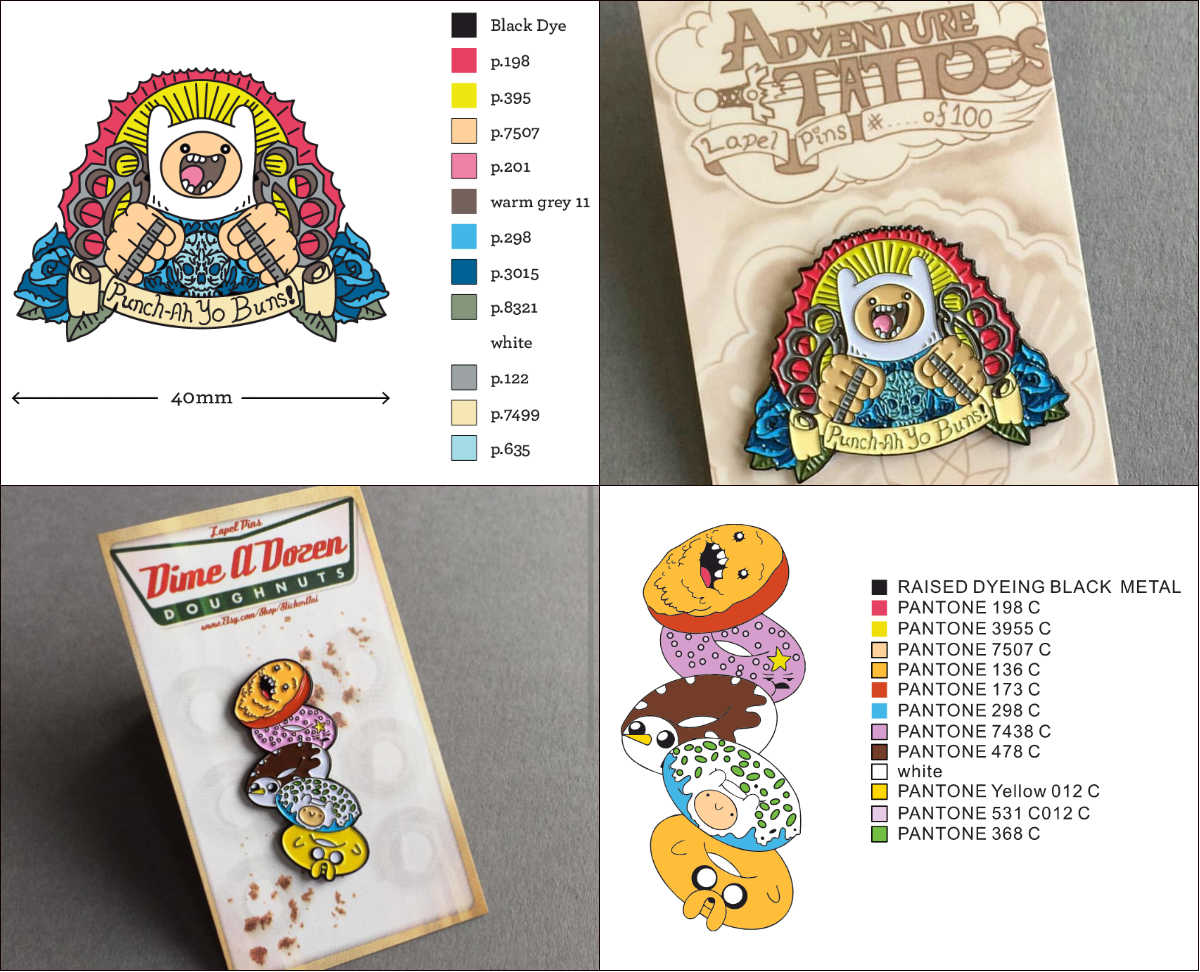 Signature Pins staffs a full graphic art department To best prepare the artwork for your Lapel Pin designs.
Please keep in mind that when submitting an estimate, a design is not required. If you do not have a design available, our art team can create a digital rendering based solely on the ideas you submit with your request for an estimate.
Dependable Service with Consistent Quality
Hundreds of Clients have Experienced Our Exceptional Service