Soft Enamel Pins
Jewelry Quality. Class & Style.
Soft Enamel Pins
When it comes to getting the most "bang for your buck," our soft enamel pins top the list. These versatile pins are ideal for crisp, highly precise designs that feature lettering, dates, logos and other details.
Soft Enamel Pins: When the Details Matter
Soft Enamel Pins are perfect for an array of occasions, from corporate branding and destination souvenirs to employee recognition and years-of-service milestones.
How Are Soft Enamel Pins Made?
Each is produced by imprinting your unique design onto a metal surface. Each individual pin is die struck, leaving recessed areas behind to receive colored enamel. The pin is then kiln-fired at 450 degrees and polished to a shiny luster, resulting in a hard surface. If desired, a special epoxy coating can be added to safeguard your pin's color from fading or cracking over time.
Signature Pins enamel pins can be made with antique or high-polished gold, silver, or copper metal. You can choose to leave areas of the metal exposed for a classic, sophisticated look—or saturate your design with vivid colors for a bolder statement.
Soft Enamel Pins from Signature Pins Are a Smart Choice
Flexible: Have a pin created in virtually any size or shape you desire, for a truly customized look.
Colorful: Choose up to 7 vibrant colors, which can be custom-matched to your logo.
High-Detail: This pin style allows for fine detail, so it's ideal for intricate logos or inspirational messages.
Durable: While enamel pins are resilient by nature, we offer a free epoxy coating as an added measure of protection (so your pins stay looking new!).
FAST, EASY ORDERING, OUTSTANDING QUALITY AND SUPERIOR CUSTOMER SERVICE
Custom Lapel Pin Pricing
*Free single-sided mold with every key chain order
* Antique process adds $0.10 per keychain
We offer a variety of different optional attachments
Lapel Pin Attachment Options
Butterfly Clutch
Included with Order
Deluxe Clutch
$0.30/ea
Key Ring
$0.75/ea

Cufflink
$1.00/ea
Jewelry Clutch
$0.40/ea
Safety Pin
$0.25/ea
Magnetic Back
$0.75/ea (2 Pieces)
Military Clutch
Included with Order
Bar Magnet
Bar magnets: $1.25 each or $1.50 each for 2" lapel pins
INCREASE THE MEMORABILITY OF YOUR PROJECT
Presentation Options
FAST, EASY ORDERING, OUTSTANDING QUALITY AND SUPERIOR CUSTOMER SERVICE
Metal Plating Options
High Polished Copper
High Polished Bronze
Antique Silver
High Polished Silver

Black Nickel
Antique Copper
Antique Gold
Black Metal

High Polished Gold
Antique Bronze
INCREASE THE MEMORABILITY OF YOUR PROJECT
Artwork Requirements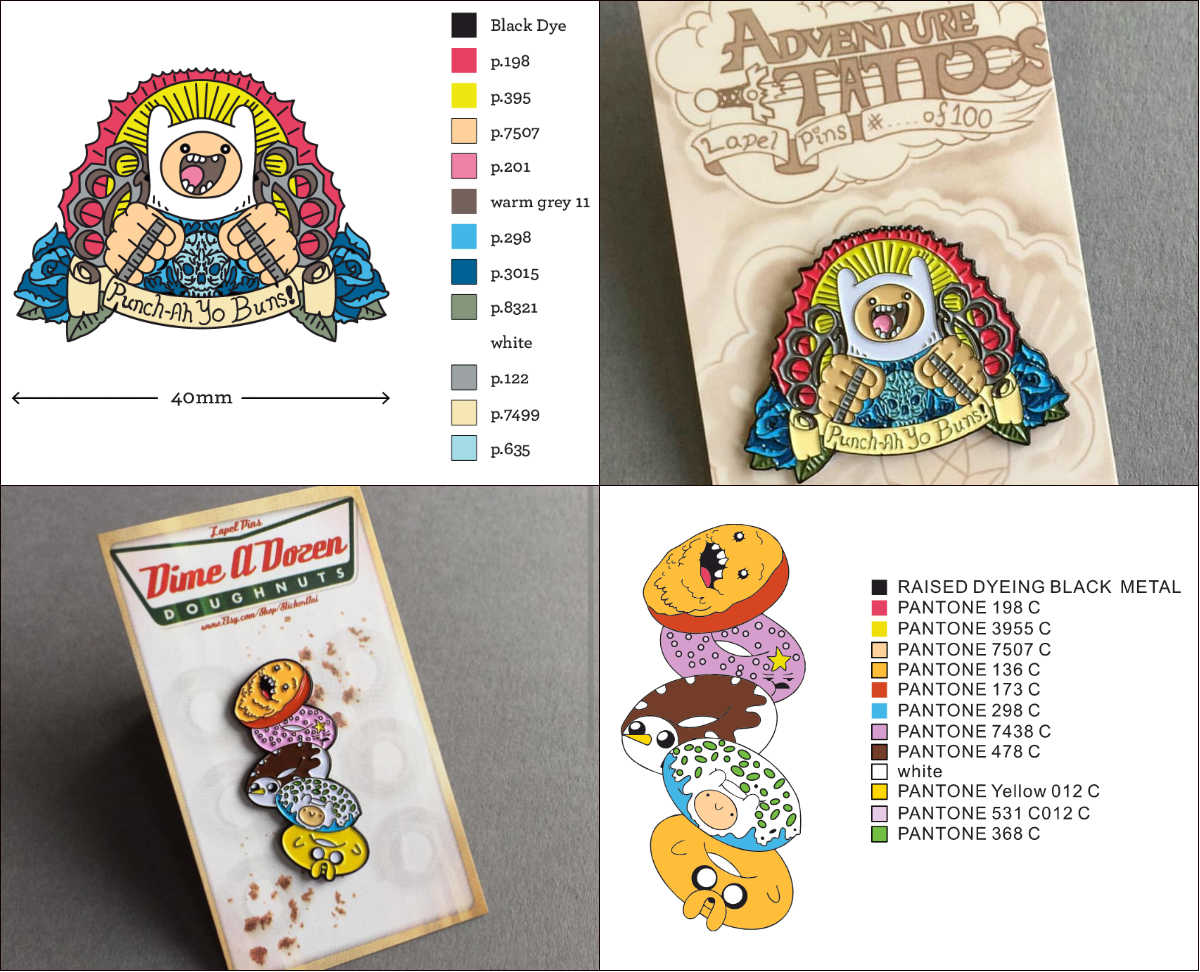 Signature Pins staffs a full graphic art department To best prepare the artwork for your Lapel Pin designs.
Please keep in mind that when submitting an estimate, a design is not required. If you do not have a design available, our art team can create a digital rendering based solely on the ideas you submit with your request for an estimate.
Dependable Service with Consistent Quality
Hundreds of Clients have Experienced Our Exceptional Service